Rover Range Tornado Ignition ECU Hotwire EFi Upgrade Discovery 3.9 4.2 V8 Model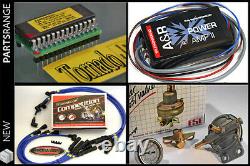 The Ultimate Efficiency, Torque enhancement & ultimate cost effective power upgrade system for all Rover MGR V8 Plus Morgans TV's Kit cars Etc. The ultimate upgrade solution for all Hotwire Rover V8 engines to include. All and everything you see below, indeed, after 30 years and tens of thousands of V8 upgrades supplied you can be sure that this is the most comprehensive upgrade ever offered anywhere. What is this listing for?
A complete essential, minimum requirement upgrade kit suitable for all Rover V8 engines, designed to give you the ultimate in complete fueling efficiency, plus ignition enhanced ability resulting in massive enhanced combustion ability for a smoother running, very responsive and efficient powerful engine. New Tornado Hotwire ECU Chip - Fuel maps available for 3.5 or 3.9 standard or mildly tuned. One Security Decoder socket chip - Necessary to decode the information on the Optimax ECU Chip. New Adjustable Fuel Pressure Regulator - With fuel rail adapter and fitting kit. One Fuel pressure gauge - Fixes to the regulator itself for easy setup.
Ignition System upgrade,'Magnecor Wires & Our Exclusive A&R Ignition Amplifier'. A Set of Brand New Magnecor Wires and our exclusive A&R Amplifier. RPi's in house developed unique high power A&R Ignition Power Amplifier. Fuel Maps & ECU Chipping - Hotwire Tornado Variant.
Far more important than you might have considered! This listing is for the Tornado variant ECU chip. Suitable for the 14CUX Hotwire EFi system found on TVR's, Morgans, Land Rovers, Range Rovers and many kit cars. If you have the later Sagem (Gem's) EFi system please visit our shop for the correct chips.
Full control of the fuel map is contained within this innocent looking EPROM (Chip). It contains all the fuelling, RPM & fueling Load Map information, and instructions required to run your engine. To understand better how it works you must understand that, although your engine needs to run at varying RPM, it also has an extra factor to be considered - Engine Load. This can be considered as the difference between part-throttle cruising or full-throttle accelerating or pulling. When you are on part-throttle cruise driving mode, with Optimax or Tornado the fuel mixture will run slightly lean, giving you the best possible economy. As you demand higher & higher load performance, such as under hard acceleration and load pulling, the Optimax and Tornado will allow it to run richer, and give you the best possible performance both without losing sight of efficiency. With over 120 load/rpm adjustments, the Optimax and Tornado are streets ahead of any competition. (most of which just target more BHP with more fuel dumped in at high RPM). As an essential basic upgrade for engine economy and efficiency. When converting to a large capacity and/or performance tuning. Lowering engine temperature & avoiding block cracking. As there are also a few variations of this ECU type, we will need to know what family type yours is. Chip Identification and replacement details.
All the following information assumes you have the Hot Wire injection system. Please check if your ECU type is 14CU, or 14CUX (14CU is normally American export only and currently cannot be chipped) To be able to supply the correct family of chip we will need to know some information from inside the ECU itself. Inside there is a small chip with MVA on it.
We need to know the rest of the numbers and letter. Fully Tested for almost all V8 engine needs. Our Tornado & Optimax ECU Chips have been extensively developed on vehicles under exacting Rolling Road conditions, thus ensuring perfect fuelling throughout the rev range of almost any V8 Engine, and should be seriously considered as an important part of your vehicle's needs. The following are just a few advantages and adjustments you can expect to have gone into all our ECU Chip upgrades.
Engine Temperature Map: Decreased cold and warm up fuelling to reduce the risk of flooding. Throttle Response: Quicker throttle response. Airflow Meter Scaling: Vital for good drivability and fuel economy, especially on large capacity engines. Allows correct control of part throttle fueling. Re-profiled Fuel Map: Provides good fuel economy on part throttle, and allows engine to rev more freely, (standard profile reduces fueling heavily after 4000rpm).
Idle Speed: Lifted to give smoother idle. Throttle overrun braking: Increased engine braking. Removal of road speed limit: Standard 113mph road speed limit removed (Range Rover only). Cranking Fuel: Reduced risk of flooding, starting delay to allow oil pressure to build before starting. 4.2 standard or modified. 4.6 standard or modified. Brand new'FSE, Power Boost Regulator' Complete with pressure gauge. What does it do and how does it do it? This dedicated'FSE' high-performance fuel pressure regulator enhances engine performance, acceleration, throttle response and efficiency by increasing, when required to a greater degree than normal std. By simply multiplying vacuum (load), enrichment of the fuel mixture when under moderate to heavy acceleration and in all other demanding driving situations too whilst maintaining a crisp lean mix for normal cruise speed driving & engine deceleration times plus at idle situations as well. Maybe now you can begin to kiss goodbye to those lumpy tickover and low speed annoying driving problems so many V8's now suffer from.
So simple its easily a DIY classification. The power boost regulator is also very simple to install in most instances.
These units are 100% mechanical and are considered maintenance free with a life expectancy exceeding ten years of normal use. Why it is possible to achieve so much from such a simple enhancement is easy to understand when appreciating inbuilt manufacturers compromise's considering there commercial / financial needs to build engine's that will always operate in all the Worlds extremes. Perhaps at the highest of altitudes in the Andes or the lowest of temperatures in Iceland. Thankfully the power boost regulator will overcome these inherent short-comings with ease.
On acceleration from standstill (inducing maximum load), the power boost valve fuel pressure response will increase at 1.7 times the standard rate. This will achieve a healthy fuel mixture strength which will instantly improve engine response & drivability under acceleration and all demanding driving situations.
In addition the refined lean and cruise fuel pressure control will further provide you the best economy you have ever had with more potential power gains too, especially when considering and including some/all the other bespoke V8 Engine essential upgrades that we offer in our listings. A Quick list of the benefits attainable when upgrading to the FSE regulator.
Enhanced & far crisper throttle response. Increased fuel economy achieved through increased'fuel burn' efficiency. Removal of lethargic performance and engine flat spots. Very noticeable engine performance gains under normal driving as well as sports mode.
What is included in this kit. 1 Adjustable Fuel Pressure Regulator. 1 Adapter Plate to replace the original fuel pressure regulator. 1 Length of Fuel pipe and Vacuum pipe.
Fixings - Including bracket, screws, hose clips and instructions. Pressure gauge for ease of setting up. Checking your old original std. To check your original regulator you must test the fuel rail pressure and then suck on the vacuum hose to check the diaphragm integrity but in all cases its best to upgrade them even if not faulty, but please carry out these checks because the minimum you will need if they fail is to fit the lower cost standard regulator. (Superior 8.0mm Wires, for'all' Rover V8 Engines and engine variants, just specify what you have and we will supply the ones you need).
Increased Fuel economy, 10 -20% nominal is to be expected. Increased engine torque, especially through transitional low end and mid range load/Rpm driving. Engine torque smoother & more enthused-enabled through improved combustion.
Far cleaner & lower emissions creating for far longer engine life. LPG (GPL) Recommended due fuel octane increase to 110 with LPG. Enhanced Service life of Ten years minimum can be assumed or 100 thousand Miles. This would truly be a lifetime for most vehicles.
At this cost the cost, Magnecor wires will not only be the most cost effective upgrade you ever made but will also considerably enhance the driving pleasure of your cherished vehicle. For further assurance we can reliably state we have supplied many thousands of sets of Magnecor wires the past 15 years and 99% are still in use without fault or perhaps the engine itself has given up first. A set of 8.0mm Blue Magnecor Plug Leads, for'all' Rover V8 Engines and engine variants fitted in very many different vehicles, but will always be delivered correct for your Rover V8 whatever your application. This listing also covers the Later 4.0 and 4.6 engine variants with rear mounted coils that have 8 coil leads in the set rather than one coil lead and 8 plug leads. UK Factory hand built (by Humans) and checked for continued maximum manufacture assembly reliability.
Spiral wound for full capacitance build up to create shortest, highest possible ignition voltage detonation. Stainless Steel hand built construction at the'Spark Plug' connection to eliminate normal corrosion otherwise causing all damaging HT.
Cap/plug wire contacts hand fitted rather than by blind machines. Many boot style and angles both at plug lead and distributor fitment ends variable in the set to provide perfect fitment and avoidance of obstacles such as hot exhaust manifolds. Minimum 8mm Silicon cover, (8.5 Red Also available) Silicon although in itself is of no value for spark enhancement, but very good as the ultimate RF insulator wire strengthener, damp inhibitor and durability, all being only real purpose of the use of silicone in plug wires here. (if colour is important though we offer 8mm Blue and 8.5MM red).
Brand New A&R Power Amp. Offering all Rover distributors the massive output gains lacking in all Stock Rover electronic ignitions and what's more the best component conversion from Points to electronic ignition on the market. Please let us know whether you require single timing (for petrol only) or dual timing for both (lpg and petrol) upon purchasing, or we will default to sending the single timing amplifier.
1 Brand New power amplifier (single or dual timing please let us know), suitable for the Rover V8 engine. Hand built and with reliability beyond doubt as there are over 3000 of these ignition amplifiers produced and going strong. Will this fit my engine?
This amplifier will fit all the standard Rover V8 distributors, both single point and electronic, (excluding the early Lucas Opus system) and will also work in conjunction with the Mallory Unalite and Dual Point Distributor. If you have the early Lucas Opus distributor we seriously suggest that you upgrade from this system as it will be losing you 2 - 3 miles per gallon on fuel economy and much more in performance terms as well.
Small on the outside - Big Power on the inside. The unit contains its own integrated power output stage employing a low-saturation IGBT power transistor for low loss, minimal self-heating, and maximum reliability. The internal circuits are protected against accidental battery reversal. The input circuits allow configuration to suit most types of points and sensor types of distributors. Finally, internal links allow the automatic retard sensitivity to be set to suit 4, 6, or 8-cylinder engines (wiring diagram supplied for the Rover V8 engine).
Specific details that we need from you upon purchasing this system. We are offering here, either the single or dual timing amplifier, please let us know, which one you require upon purchasing, else we will default to sending the single timing. Upon Purchasing a set of Magnecor Leads please let us know what vehicle you wish to fit to, so we can be sure of sending the correct leads. It is essential that you tell us the complete spec of your existing engine to ensure the correct components are supplied. The item "Rover Range Tornado Ignition ECU Hotwire EFi Upgrade Discovery 3.9 4.2 V8 Model" is in sale since Friday, March 23, 2018. This item is in the category "Vehicle Parts & Accessories\Car Tuning & Styling\Engine, Tuning & Chips\Performance Chips". The seller is "partsrange" and is located in Norwich. This item can be shipped to United Kingdom, Austria, Belgium, Bulgaria, Croatia, Cyprus, Czech republic, Denmark, Estonia, Finland, Germany, Greece, Hungary, Ireland, Italy, Latvia, Lithuania, Luxembourg, Malta, Netherlands, Poland, Portugal, Romania, Slovakia, Slovenia, Spain, Sweden, Australia, Bahrain, Canada, Brazil, Japan, New Zealand, Hong Kong, Norway, Indonesia, Malaysia, Mexico, Singapore, South Korea, Switzerland, Taiwan, Thailand, Bangladesh, Bolivia, Brunei darussalam, Ecuador, Egypt, Guernsey, Gibraltar, Guadeloupe, French guiana, Iceland, Jersey, Cambodia, Liechtenstein, Macao, Monaco, Martinique, Nicaragua, Pakistan, Peru, Paraguay, Saudi arabia, United arab emirates, Bahamas, Jamaica, Kuwait, Panama, Qatar, Uruguay, Viet nam, France, Bermuda, Barbados, Cayman islands, Jordan, Sri lanka, Maldives, Oman, Reunion, South africa, Ukraine, Colombia, United States, Philippines.
Manufacturer Part Number: Does Not Apply
Type: Ultimate upgrade kit bare Minimum Required
Interchange Part Number: as well as fuel pressure regulator included
Other Part Number: see our other listings for details
Part Manufacturer: Essential upgrade kit
Part Manufacturer Number: Other upgrade parts/kits available
Manufacturer: includes Mark Adams Tornado ECU Chip
Subtype: Morgan, MG , TVR , Range Rover
Intended Use: all other Rover V8 Engine components & upgrades
Brand: RPi

---