Range Rover Leather Seat Repair Dye, Valer, L322, Sport, Vogue, Discovery, P38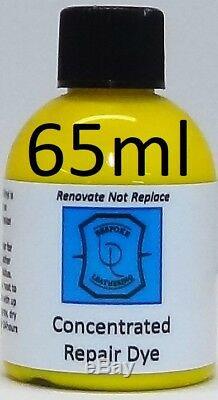 Known for being durable, hard wearing, easy to clean and aesthetically more pleasing, leather can suffer from accidental damage or incorrect cleaning, subsequently leading to more damage. Damage from studs on clothing and pet scratches are amongst the most common causes and long term bleaching from sunlight (UV) for sofas that are in direct sunlight resulting in the original manufacturers colour fading.
All dyes are matched to manufactures leather samples. All dyes are water based and have a built-in sealer so there is no need to apply a separate sealer. Dyes can be dried using a hair dryer, so no need to wait. Application can be by sponge or airbrush. Once dry, the colour is WATERPROOF and PERMANENT.
T WILL NOT COME OFF ONTO YOUR CLOTHES OR HANDS. Professionals in Bespoke interior trimming and renovation. All the dye and renovation products we advertise here on e-bay are the same that we use daily. We have comprehensive knowledge built up over many years and with this knowledge we can offer the best possible advice. We believe knowing a products capabilities and limitations is very important and as we are interior trimmers we also have an excellent insight into leather, leather quality and application of our dye onto the leather, be it a light scratch or colour fade to leather that some people view as beyond repair or even if you want to change your leathers colour.
We have been renovating and restoring interiors (as well as re-trims) for CAR S. S since the beginning and many of our restorations can be found when searching for past or present programs.
As well as CAR S. S, we have undertook work or supplied these very dyes (as well as being filmed) on other programs such as Salvage Hunters: Classic Car Special.... Its Me or the Car with Peter Andre + more. "Anyone can stock a product, but having comprehensive knowledge down to the smallest detail, knowing its applications and limitations and knowing that its works in our opinion takes experience". If you do not let us know, we cannot mix and send you your colour. Colour yet to be catagorised but still available. Q:My Colour Is Not Listed. A:If you do not see your colour listed then this is a colour we may not have. If you are able to send us a small sample of leather no smaller than 2x2 (The bigger the sample the better the match) we will colour match a dye for you. Alternatively, if youre unable to send a leather sample please send an interior part. We will colour match a dye to your part and return it unmarked. Q:Is Colour Matching Free. A:Colour matching is completely free and we will only accept small parts. Not full seats or large interior panels. Q: How Long Will It Last. A:Like any leather interior, renovated seat will last as long as you look after them. If your seats are subject to heavy wear then this will reduce there life span. Q: Will This Dye Come off onto my clothes. A:No, dye has a built in sealer, once its dry... Q: What If My Interior Gets Wet. A:Not a problem, just wipe the leather down and leave to dry.
Dye's have a built in sealer, this sets when dry and no amount of water will cause it to come off onto your clothes or hands. Q: Will This Dye Remove Scratches Throughout My Interior. A:Dyes covers over damaged areas.
Light scratching can disappear completely while heavier scratching can still be visible but be greatly reduced to near perfect. In some cases if the heavier scratching is not what we call a complicated scratch then this can disappear completely. Q: Can This Dye Fill The Crease In My Leather So Its Smooth. A:No, you can re-colour creases but creases in leather are like the creases in your hands. They are a natural feature which appears over time. If you were to fill the creases until smooth with leather filler or leather dye it will not be long before it cracks and starts to fall out. They are there to stay and only replacement leather will remove them completely. Q: Can This Dye Fill Cracks In The Leather. A: Some cracks in the leather can be filled as long as they are not too large or too deep. Cracking is usually caused when the leather has become very dry.
Creases and Cracks are not the same. Q: Can This Dye Be Used To Colour Piping. A: Piping can be as it is usually leather or vinyl (Just make sure you do not have Plastic piping). Q: The Top Colour Thread Is Different To My Leather Colour. A: Some interiors, Original or aftermarket have different top stitch thread colours to the leather on the seats e.
Cream Leather with Black Top stitch , this does cause a problem. Trying to dye the leather without dying the thread can be very difficult. Dying up to the thread and then applying dye using a very thin brush is a possibility, but this will take a considerable amount of time. Q: What About My Steering Wheel. A: Steering wheels made from leather can be dyed just like your seats.
Q: Can The Leather Colour Be Changed. A: Yes, Its advisable go for a darker colour than you already have. Light grey/Beige leathers are a good base to start with and these can even be dyed lighter. Black is a very strong colour so darker red or tans would be your best option. Q:Can You Dye My Seats.
A:Yes, as we are leather interior trimmers we are able to repair, re-dye, re-trim or renovate your interior. The item "Range Rover Leather Seat Repair Dye, Valer, L322, Sport, Vogue, Discovery, P38" is in sale since Wednesday, April 22, 2015. This item is in the category "Vehicle Parts & Accessories\Car Accessories\Car Care & Cleaning\Touch-Up Materials". The seller is "bespokeleatheringltd" and is located in Tamworth.
This item can be shipped worldwide.
Manufacturer Part Number: Does Not Apply
Country/Region of Manufacture: United Kingdom
Brand: Bespoke Leathering Ltd

---