Lockwood Range Rover Sport & Land Rover Discovery MPH to KMH Conversion Dial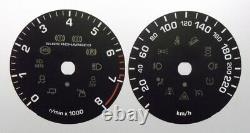 Lockwood Dial Conversion Kits (Km/H to MPH / MPH to Km/h). Application: Range Rover Sport and Land Rover Discovery (Supercharged models).
NOTE: Lockwood Dial Conversion Kits are produced for imported vehicles requiring conversion to an MPH speedometer scale and those being exported from the UK requiring conversion to Km/h. It is absolutely vital that great care is taken to identify the correct dials; often there are only very small variations that are to be noted in order to determine the correct part - this may be a single warning icon or a specific figure at which the speedo starts. We encourage a photograph to be taken of the existing fascia in order to draw a careful comparison with the item pictured taking particular note of the Specific Compatibility Notes displayed above (if applicable). Please note that the product image may not accurately represent the colour of the product supplied. The dial colour and that of the night-time illumination is detailed above.
This item includes only the dial faces, no instruments or instrument cluster is supplied. Lockwood car dials, speedos & gauges have an international reputation for style and quality. They are designed and produced by craftsmen who monitor the accuracy and quality at every stage of development. Specialised inks are used to ensure that gauges, dials and speedometers can be easily read, and advanced printing techniques are employed in the manufacture of the product to ensure that the ink will never discolour, fade, bubble or peel.
Having been cut out, the dials are hand finished and inspected to ensure that every item leaving the premises is flawless and will fit perfectly. For these reasons, Lockwood dials can be fit into the instrument cluster with confidence.
Lockwood specialise in white and coloured car dials, gauges, speedometers and Km/h to MPH conversion dials. Experts in the automotive trade confidently fit Lockwood dials, gauges, speedometers etc.
And many specialist vehicle importers fit the dials, speedos and gauges when they need Km/h to MPH conversion dials or MPH to Km/h conversion dials. And hundreds of thousands of private car owners have fitted Lockwood dials, speedos or gauges in their car. If there are any delays we will notify you of such as soon as possible. For the most part deliveries will be fulfilled by courier and are usually made Monday to Friday between the hours of 8:00 to 18:00.
Whatever the reason for a request to return an item the following conditions must be met.

---