Land Rover Discovery 2 1999-2004 Coolant Overflow Reservoir Bottle Tank & Cap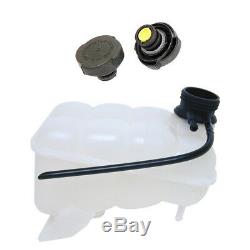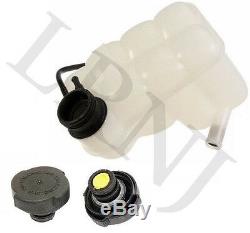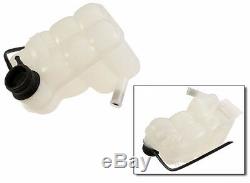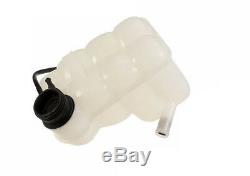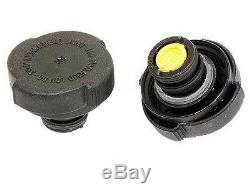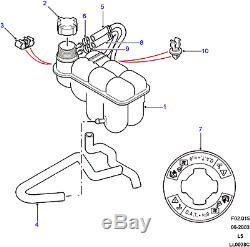 RADIATOR COOLANT OVERFLOW RESERVOIR BOTTLE TANK NEW. OLD PART NUMBER OR PCF101410 NEW PART NUMBER &. RESERVOIR BOTTLE TANK CAP PART # PCD000070. BRAND NEW QUALITY REPLACEMENT EQUIVALENT TO LAND ROVER PART NUMBER. Part No: ESR2935 / PCF101410 &. PARTS # 1 & 2. Dimensions: 0.02 m x 0.19 m x 0.27 m. And where is it located? The engine in your car or truck works extremely hard and as it burns the air / fuel mixture, it generates a tremendous amount of heat. Since the engine operates at its best when it is at a certain temperature, it needs to be cooled down so that it does not overheat, and that is what your vehicles cooling system is for.
An important component of that system is the radiator overflow tank. This tank serves as a storage device for extra engine coolant to be used at a future time by your vehicles engine cooling system. Due to space constraints, the tank's location varies depending on the make and model, but usually it can be found near the radiator. While some classic cars had glass overflow bottles, todays modern cars use ones made out of plastic for its ability to be formed into some complex shapes. Before getting into how a radiator overflow tank works, lets briefly touch on some terminology.
Many different names are used when referring to a radiator overflow tank, and they are completely interchangeablethey all essentially refer to the same part. Coolant reservoir, coolant tank, coolant bottle, coolant reservoir tank or coolant reservoir bottle.
Coolant overflow tank, coolant overflow reservoir, or coolant overflow bottle. Coolant recovery tank, coolant recovery reservoir, or coolant recovery bottle. Radiator reservoir, radiator tank, radiator bottle, radiator reservoir tank, or radiator reservoir bottle. Radiator overflow reservoir or radiator overflow bottle. Radiator recovery tank, radiator recovery reservoir, or radiator recovery bottle.
How does a coolant reservoir work? The coolant reservoir has two purposesto expand and to reserve. Basically, as the temperature in your engine rises, the coolant heats up and expands, causing it to become highly pressurized. This piping hot coolant is sent to the radiator to be cooled down. The radiator cap that is attached to your car or trucks radiatorwhich is actually a pressure release valveand acts to maintain the pressure inside of the radiator to a specific point. When the amount of pressure builds within the radiator as a result of this hot and expanding coolant and eventually reaches its maximum pressure point, the cap gives way releasing that pressure and coolant then spills or surges out of the radiator.
This excess coolant, also known as overflow, is pushed into the coolant overflow tank through a small hose that attaches the coolant reservoir to the radiator. When the temperature within the radiator has cooled down sufficiently, coolant from the surge tank is then sucked back into the radiator. Without this expansion tank, coolant would essentially spill out of the cooling system, out of the car, and all over the ground, which is not good for the environment. This was commonplace on older vehicles that lacked coolant expansion tanks, and it wasnt until the 1970s when a concern for the environment became a hot topic that overflow bottles were added to vehicles. Initially, they were designed simply to act as a reservoir for the coolant that overflowed out of the radiator, which is where the term radiator or coolant overflow bottle gets its origin.
Over time, the components design transformed into that of a recovery tank, meaning that the extra coolant is recovered later by the radiator. The coolant reservoir also functions as a reserve tank in addition to functioning as an overflow tank. Radiator overflow tanks have a removable cap which allow for coolant to be added to the system when low. The majority of coolant recovery tanks have a line which indicates the appropriate level for the coolant; above the line indicates that there is enough coolant in the system, while below the line indicates that there is not enough coolant in the system, which puts the vehicles engine at risk of getting too hot and overheating the vehicle. For the most part, the coolant recovery tank is self-sufficient and will maintain the appropriate level of coolant.
But if coolant is leaking out of the car somewhere, it will keep getting drawn out the reservoir and back into the radiator, meaning you will have to fill up the tank a lot. Therefore, you should check on your vehicles cooling system consistently to ensure that there arent any such problems. In addition, on some newer vehicles where there is no radiator filler neck or other fill point for engine coolant, the reservoir tank is actually used as the sole fill point, and not just as an expansion and reserve tank. How do I know if my radiator overflow bottle needs to be replaced?
Since radiator overflow bottles are plastic, theyre usually replaced due to cracks. Wild temperature swings (think cold winter day and high temp engine coolant) can cause the bottle to split at its seams. Another common reason for replacement is broken mounting tabs or hose outlets from debris or other repair work. If you pour coolant in and can see it running out, chances are the bottle needs to be replaced.
Can I replace a radiator overflow tank myself? Make sure to wait until the car has cooled down first, though.
In most vehicles, installation is as simple as disconnecting the coolant hose, unbolting any mounting hardware, and swapping it out with a new one. On some models, there may also be a coolant level sensor in the tank that will need to be removed from the old bottle and inserted into the new one.
The item "LAND ROVER DISCOVERY 2 1999-2004 COOLANT OVERFLOW RESERVOIR BOTTLE TANK & CAP" is in sale since Tuesday, June 7, 2016. This item is in the category "eBay Motors\Parts & Accessories\Car & Truck Parts\Cooling Systems\Radiators & Parts". The seller is "lrnj_autoparts" and is located in Lutz, Florida. This item can be shipped worldwide.
Part Brand: LRNJ
Interchange Part Number: ESR2935
Manufacturer Part Number: PCF101410 & PCD000070
Other Part Number: LRNJAUTOPARTS
Brand: For Land Rover
Fitment Type: Direct Replacement
Warranty: 90 Day

---