Exide EK950 12V 95AH 850A AGM VRLA 019 Battery Land Rover Jaguar Range Rover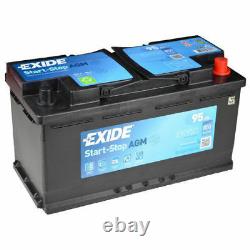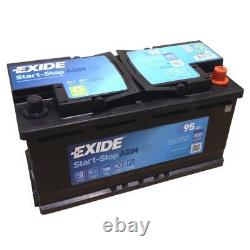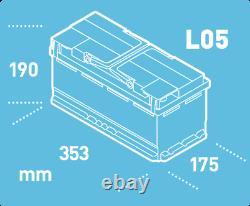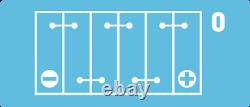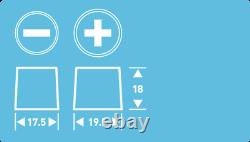 Exides Start-Stop AGM (Absorbent Glass Mat) battery uses high-performance components and materials, including high-surface glass mat separators, advanced lead-tin alloys and unique carbon additives in the active mass. It is ideally suited to cars with start-stop or regenerative braking systems.
This new-generation AGM battery also supports sailing and other intelligent fuel-saving features. Absorbed Glass Mat (AGM) technology batteries are a type of Valve Regulated Lead Acid (VRLA) battery that use a material manufactured from very fine glass fibres. The AGM material acts as a separator between the positive and negative plates and as a sponge to hold the sulphuric acid electrolyte. The plates are compressed for superior electrical performance to conventional flooded technology. Instead of the conventional polyethylene separator, the plates of AGM batteries are enveloped with a glass mat that absorbs the electrolyte and maintains direct contact with the plates active material.
This greatly enhances both discharge and recharge efficiency, resulting in high performance engine starting and high cycle capabilities. The physical bond between the battery components and the container makes AGM spill-proof and the most resilient battery to vibrations and tilting at high inclinations. AGM can be used for Start-Stop cars with regenerative braking and coasting, and as a high-endurance starter battery for utility and emergency light vehicles.
Other applications include off-road, motorbikes and marine/leisure. Now 4 times higher cycle life. For partial state of charge operations. Ideal for large cars, SUVs, vans and vehicles with Start-Stop and power-hungry electrical equipment. Top-level safety features and absolutely no free acid.
Latest generation approved by car manufacturers. Great car parc coverage from a limited number of SKUs.
Trade Number / UK ref: TYPE 019 AGM. VRLA AGM (Valve Regulated Lead Acid Absorb Glass Mat). Cold Cranking Amps (CCA): 850 A (EN).
Height: 190mm (Height is including Terminals). Automotive Battery Care & Maintenance. Automotive batteries are manufactured to the very highest of standards, but to get the very best performance and longevity out of your batteries it is well worth following a simple care and maintenance program.
Always recharge your battery fully if discharged and keep it as fully charged as possible during long periods of in-activity. Please must use Continual Automatic Smart Battery Chargers with these batteries such as NOCO G7200 Fully Automatic Intelligent Connect & Forget Mains Powered Smart Battery charger can be left attached to the battery for long periods and will look after your battery at correct state of charge until you need it next. Avoid completely discharging your battery (Below 10.5V) as this will reduce its lifespan. When the battery is out of the vehicle etc. Always store it in a cool, dry and well ventilated place. From time to time make sure the terminals are free from dust and dirt, and all connections are sound. Please must not use the trickle charger, split charging system and solar charger to charge. Only use mains powered battery chargers. All batteries, regardless of their chemistry, will self-discharge. The rate of self-discharge for lead acid batteries depends on the storage or operating temperature. At a temperature of 80 degrees F. A lead acid battery will self-discharge at a rate of approximately 4% a week. Keeping this in mind if a 125 AH battery is stored for four months (16 weeks) winter without being charged, it will lose 80 amps of its 125-amp capacity.
It will also have severe sulfation, which causes additional loss of capacity. Keep your batteries charged while not in use. We Dispatch by COURIER usually next day but may take two days on occasion. We have no weekend deliveries. You can collect if you prefer.
Our Courier Company always tries to deliver the parcel twice only after that you have contact them to arrange the collection within three days of second attempt and collect your parcel from their nearest depot to your home otherwise they will send the parcel back to us. We dont do WEEKENDS DELIVERIES. Please note the advice given from Starter Batteries customer services regarding suitable products should be treated as a guide only. If goods prove to be damaged, do not sign. All Batteries warranted against premature failure due to manufacturing or material defects only. Warning:-Remove bungs (plugs) immediately after receiving the battery or batteries (All types of flooded lead acid batteries) even in storage condition. Bungs (Plugs) are only for transportation use.
If these instructions are not followed(removing bungs immediately) battery may get bulged or explode. INHALATION - Remove from exposure, rest and keep warm. EYE CONTACT - Wash out with plenty of water for at least 15 minutes. SKIN CONTACT - Remove contaminated clothing immediately and wash affected skin with plenty of water.
INGESTION - If the electrolyte has been confined to the mouth give large quantities of water as mouth wash ensuring that it is NOT swallowed. If electrolyte has been swallowed, give water to drink immediately. BURNS - Apply sterile bandage. The item "Exide EK950 12V 95AH 850A AGM VRLA 019 Battery Land Rover Jaguar Range Rover" is in sale since Wednesday, December 18, 2019. This item is in the category "Vehicle Parts & Accessories\Car Parts\Electrical Components\Car Batteries". The seller is "starterbatteries2011" and is located in Glasgow. This item can be shipped to United Kingdom.
Modified Item: No
Custom Bundle: No
Important Note: Must supply UK Number Plate to confirm fitment
Please Note: Basic info isn't enough to check fitment
Product Range: START STOP AGM
Length (mm): 353
Width (mm): 175
Type: AGM Battery
Height (mm): 190
Positive Terminal Position: Right
Hold Down Type: B13
Cold Cranking Amps (CCA): 850 A (EN)
Manufacturer Part Number: EK950
Vehicle Type: Car
Volt (v): 12V
Capacity (Ah): 95AH
UK Reference: 019 AGM
Product Note: SUITABLE FOR STOP START VEHICLES
Fitment Info: Only send us UK reg number to check fitment
Reference OE/OEM Number: TYPE 019 AGM
Further Note: Can be more then 1 choice available for same model
Non-Domestic Product: No
Other Part Number: S5 A13
Brand: Exide
Ampere-Hours: 95Ah
Car Battery Type: AGM

---